11-Day Annapurna Base Camp Trek with Pokhara Visit
11-Day Annapurna Base Camp Trek with Pokhara Visit
Multi-day Tours & Adventures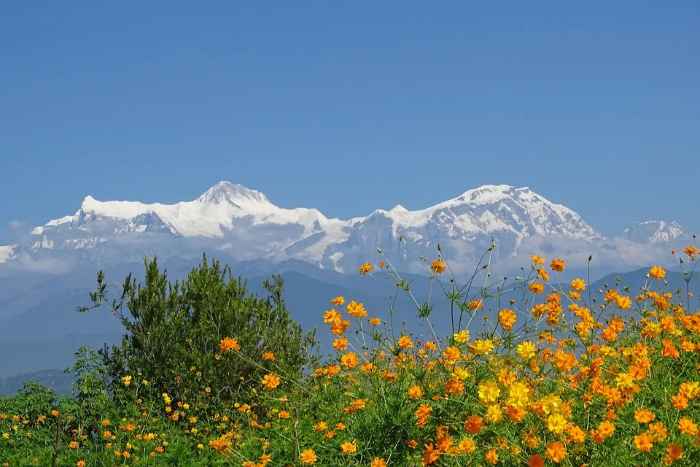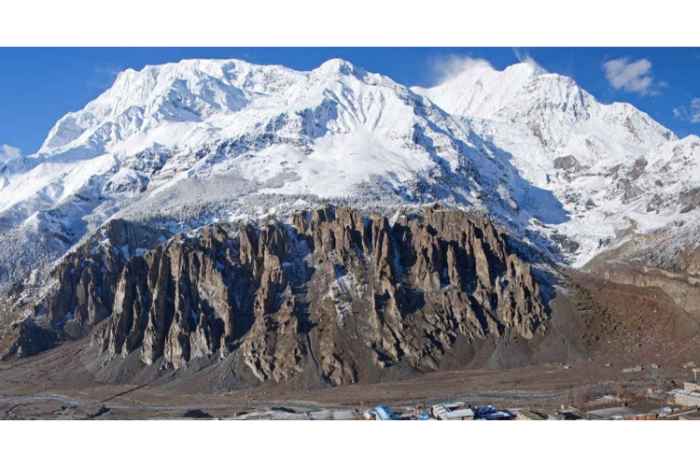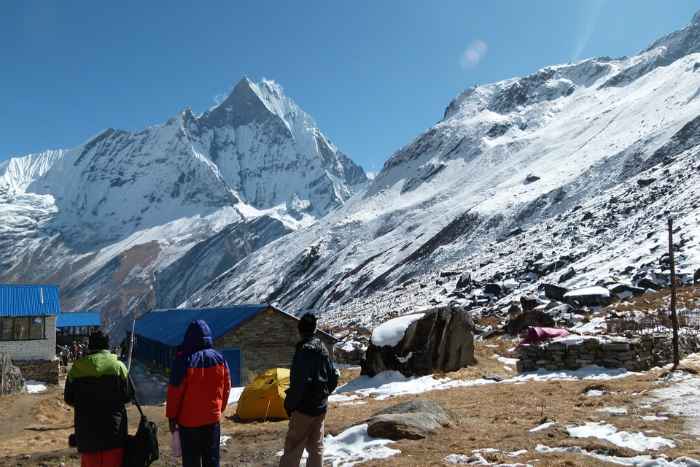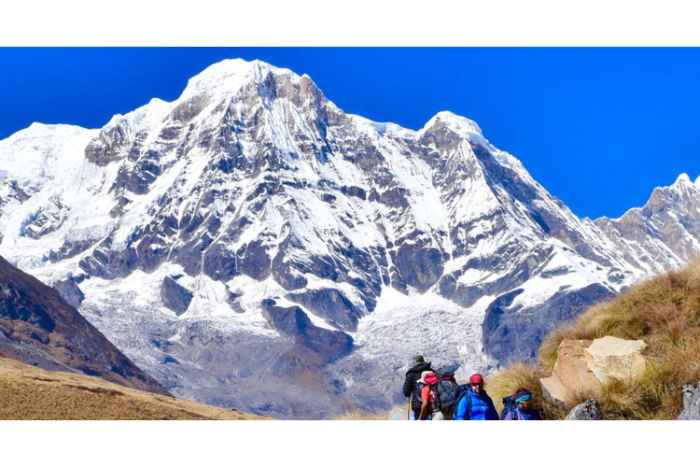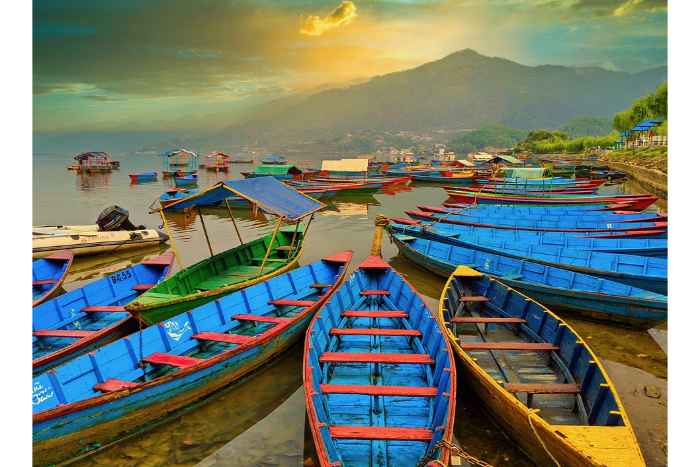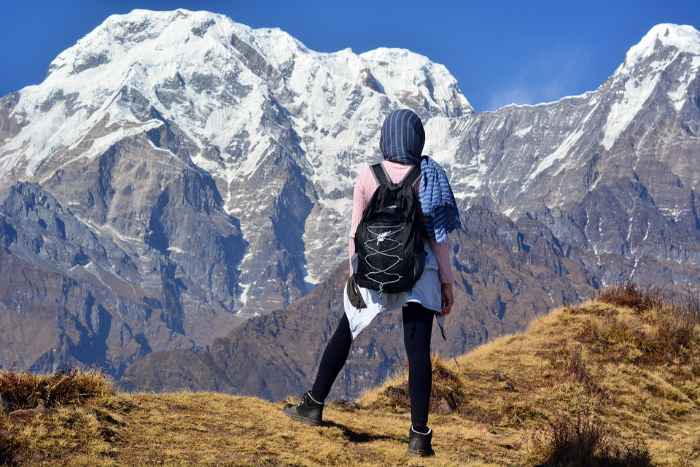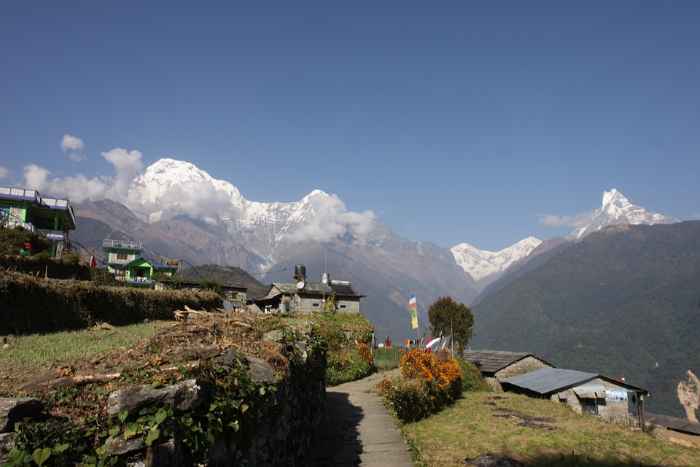 About this experience
✔ English speaking guide and a porter per group of two
✔ Full Board during the trek
✔ Starting date change allowed after booking
DURATION: 11 Days
MAXIMUM ALTITUDE: Annapurna Base Camp (4,130m/13,545ft)
OPENING SEASON: Year-round
WHO CAN COME: Annapurna Base Camp Trek is suitable for anyone in good health and reasonably fit. No previous experience in high altitudes is required
Overview
Take an amazing 11-day Annapurna Base Camp Trek and explore incredible Annapurna I, the 10th highest mountain in the world at 8,091m (26,545 ft) above sea level. Apart from the Annapurna 1 peak, the Annapurna massif includes thirteen peaks over 7,000 meters (23,000 ft), and sixteen more over 6,000 meters (20,000 ft).
Your journey begins in Pokhara, widely known as the 'Lake City' that offers magnificent views of Dhaulagiri, Manaslu, Machhapuchhare, and Annapurna. Throughout your trek, you will encounter cascading waterfalls, beautiful villages, terraced farmlands, lush rhododendron forests, and amazing mountain vistas before reaching the base of the mighty Annapurna.
24/7 Available Support
For this Annapurna Base Camp Trek, there is 24/7 support. Please contact us at support@gofreedly.com
Highlights
◾ Hike through spectacular landscapes and discover typical Gurung villages
◾ Take in incredible glacier and mountain views from Annapurna Base Camp
◾ Listen to your knowledgeable local guide and gain an understanding of the local culture and lifestyle
About this experience
✔ English speaking guide and a porter per group of two
✔ Full Board during the trek
✔ Starting date change allowed after booking

DURATION: 11 Days
MAXIMUM ALTITUDE: Annapurna Base Camp (4,130m/13,545ft)
OPENING SEASON: Year-round
WHO CAN COME: Annapurna Base Camp Trek is suitable for anyone in good health and reasonably fit. No previous experience in high altitudes is required
Description - What to expect
Annapurna Base Camp Trek Itinerary

◾ Day 1: Arrival in Kathmandu (1,300m/4,264ft)
You will be welcomed by an amazing view of The Himalayas as you approach Kathmandu. At the airport, you will be welcomed by your host and taken to your hotel. In the evening, you will be served excellent authentic Nepalese cuisine which will introduce you to the country's food and culture. Stay overnight in Kathmandu. Meals- Welcome Dinner

◾ Day 2: Fly to Pokhara (823m/2,700ft) 30-minute flight, trek to Ghandruk (1940m/6360 ft): 5 – 6 hours trek
Take a flight to Pokhara, and try to sit on the right side of the plane which offers the best views of the Himalayas. Your host will pick you up at the Pokhara airport. Then, take a 1 hour and 20-minute drive to Nayapul (new bridge) on the main road near Birethanti and begin your trek. From Birethanti, trek to Ghandruk, a beautiful village mostly inhabited by the Gurung community. If time permits, you can visit the Gurung museum. Overnight in Ghandruk.
Meals: Breakfast, Lunch, and Dinner

◾ Day 3: Ghandruk to Chhomrong (2170m/7120ft): 5 – 6 hours
Climb uphill for about an hour to Kimrungdanda, while enjoying great views of Annapurna South, Hiunchuli, Fishtail Mountain (Machhapuchhre), and Ganggapurna. Then take a steep descent to the Kimrong Khola. After another steep ascent from Kimrong Khola to Chere Danda, descend for a while, and then it's a gentle walk to Chhomrong, a beautiful village located on the lap of the giant Annapurna.
Overnight in Chhomrong. Meals: Breakfast, Lunch, and Dinner

◾ Day 4: Chhomrong to Bamboo (2310m/7578ft): 4 – 5 hours
Descend 2500 stone steps and cross the bridge above Chhomrong Khola. From here it is an uphill climb to Sinuwa. Next, pass through a beautiful forest to Kuldihar followed by an easy downhill walk to Bamboo.
Overnight in Bamboo. Meals: Breakfast, Lunch, and Dinner

◾ Day 5: Bamboo to Deurali (3230m/10,595ft): 3 – 4 hours
Trek through a damp and cold bamboo forest, then ascend steadily through several steep sections. Upon reaching Himalaya Hotel, the forest opens up to the sun with an astounding view of the glacial river below. Then take a steep climb up through a much drier forest before reaching Hinku Cave where the trail drops closer to the river before climbing again to Deurali, the most scenic stretch of the day. The vegetation is sparser, allowing magical views of the valley, the river below, and the sheer rock-face cliffs above with bands of wispy waterfalls.
Overnight in Deurali.Meals: Breakfast, Lunch, and Dinner

◾ Day 6: Deurali to Annapurna Base Camp (4,130m/13,545ft) via Machhapuchhre Base Camp (3700m/12135ft): 5 – 6 hours
Climb gently through a river bed then over a steep trail over to the mountainside, and then a somewhat strenuous hike from Bagar to Machhapuchhre Base Camp. From the base camp, get excellent views of the majestic Machhapuchhre along with Mt. Hiunchuli, Annapurna South, Annapurna I, Annapurna III, Gandharvachuli, and Gangapurna.

The vegetation becomes scarce thereafter and the path widens as you enter the Annapurna sanctuary. From here, get sensational views of the near-vertical south face of Annapurna towering above you. The sanctuary boasts of a dynamic view without anything impeding the 360-degree panorama. From the base camp, get to savor mesmerizing views of the Machhapuchhre, Annapurna South, Annapurna I, Hiunchuli, and other peaks.
Overnight at Annapurna Base Camp. Meals: Breakfast, Lunch, and Dinner

◾ Day 7: Annapurna Base Camp to Bamboo: 7 – 8 hours
From the Annapurna base camp, retrace your steps downhill to Bamboo. Overnight in Bamboo.
Meals: Breakfast, Lunch, and Dinner

◾ Day 8: Bamboo to Jhinu Danda (1760m/5770 ft): 5 – 6 hours
From Bamboo, it is an uphill trek to Kuldighar followed by a downhill walk to Chhomrong Khola. Then climb the stone steps to Chhomrong. The trail then descends to Jhinu Danda, where you will be resting for the night. You can also take a 15-20 minute walk downhill to enjoy the hot springs.
Overnight in Jhinu Danda. Meals: Breakfast, Lunch, and Dinner

◾ Day 9: Trek to Naya Pul then drive to Pokhara: 6 hours trek, 1-hour drive
Trek from Jhinu Danda to Nayapul, while enjoying the amazing hill landscape of western Nepal. From Nayapul, drive to Pokhara. Overnight in Pokhara. Meals: Breakfast, Lunch
*If the road construction connecting Jhinu Danda to Nayapul is complete, you can skip the trek and drive from Jhinu Danda to Pokhara.

◾ Day 10: Fly to Kathmandu
Fly back to Kathmandu in the afternoon. In Kathmandu, you may spend the day exploring more of the city or shop for souvenirs, lovely pashminas, or intricate artwork. There will be a farewell dinner in the evening. Overnight in Kathmandu. Meals: Breakfast.

◾ Day 11: Your departure day
Your host will take you to the airport in good time to catch your plane back home.
Meals: Breakfast
Free Cancellation
◾ If you cancel your Annapurna Base Camp Trek up to 15 days before departure you forfeit your deposit only
◾ If you cancel your tour between 15 and 7 days before departure you forfeit 50% of the tour cost
◾ If you cancel your tour within 7 days from the start of your experience you forfeit 100% of your tour cost
◾ You can reschedule the starting time of your experience up to 15 days prior to the original starting time for free. If your want to reschedule your starting time within 15 days prior to departure extra fees might apply
◾ No refunds are made if you voluntarily leave a trip for any reason after the trip starts
◾ No refunds will be made for accommodation, transport, sightseeing, meals, or any services not used
What's included, what's not
✔ Airport pickups and drops in a private vehicle
✔ 2-star Hotel Accommodation in Kathmandu and Pokhara with breakfast
✔ Teahouse accommodation during the trek
✔ All meals (breakfast, lunch, and dinner) during the trek
✔ Welcome and farewell dinners
✔ All ground transportation on a comfortable private vehicle as per the itinerary
✔ Domestic flights (Kathmandu-Pokhara-Kathmandu)
✔ An experienced, English-speaking, and government-licensed trek leader and assistant trek leader (4 trekkers: 1 assistant guide)
✔ Porter service (2 trekkers: 1 porter)
✔ Staff costs including their salary, insurance, equipment, food, and accommodation
✔ Down jacket and sleeping bag (to be returned after trip completion)
✔ Duffel bag, t-shirt, and trekking map are yours to take
✔ All necessary paperwork and trekking permits (ACAP, TIMS)
✔ Medical kit (carried by your trek leader)
✔ All government and local taxes
7 Nights Accommodation in Tea Houses/Guest House doing the trek
✔ 1-night accommodation in Pokhara includes Breakfast

✖ Nepal Visa fee
✖ International airfare to and from Kathmandu
✖ Lunch and dinner in Kathmandu and/or Pokhara
✖ Extra night accommodation in Kathmandu and Pokhara in case of early arrival, late departure, and early return from the mountain(due to any reason) than the scheduled itinerary
✖ Travel and rescue insurance
✖ Personal expenses (phone calls, laundry, bar bills, battery recharge, extra porters, bottle or boiled water, shower, etc)
✖ Tips for guide(s), porter(s) and driver(s)
Bring with you
For this Annapurna Base Camp Trek, we recommend carefully considering all essentials for the trek. (an extensive list can be provided on request) The weight limit for your luggage is 33 pounds or 15 kg. Remember that your luggage will be carried by your porter but you are required to carry a day-pack (with your valuables or anything important) on your own.
Accommodation offer
You will be accommodated in Alpine Hotel and Apartments or similar hotels in Kathmandu and standard tea houses during trekking. All accommodations in Kathmandu and tea houses are on a twin-shared basis. Note that single rooms are readily available in Kathmandu and the trekking regions at lower elevations but it might be difficult to find them at higher elevations. We can cater to a special request for a single room in Kathmandu by paying a single supplement of USD 310 on the day of your arrival.
Prepare for the experience
◾ Autumn (September to November) and Spring (March to May) are the best seasons for the Annapurna Base Camp Trek. The weather is sunny and warm with outstanding views. If you wish to avoid crowds and enjoy some time alone with nature, then taking this trip during winter (December, January, and February) could also be an option. However, the temperatures during winter could be harsh, while during the Summer or Monsoon seasons (June to August) you can expect lots of rain.

◾ Your safety is of paramount importance and your host has the authority to cancel the trip or change the itinerary, when deemed necessary or when there is reason to believe your safety is at stake. Weather conditions, the health condition of a group member, natural disasters, and such, can contribute to changes in the itinerary when traveling in remote mountainous regions. In these extreme situations, we kindly request that you offer your full co-operation to the trusted leader of the group.
Health and safety
Nepal is open to fully vaccinated people. Provider complies with local legislation and applicable health recommendations with regard to Covid-19 prevention measures
Description - What to expect
Annapurna Base Camp Trek Itinerary

◾ Day 1: Arrival in Kathmandu (1,300m/4,264ft)
You will be welcomed by an amazing view of The Himalayas as you approach Kathmandu. At the airport, you will be welcomed by your host and taken to your hotel. In the evening, you will be served excellent authentic Nepalese cuisine which will introduce you to the country's food and culture. Stay overnight in Kathmandu. Meals- Welcome Dinner

◾ Day 2: Fly to Pokhara (823m/2,700ft) 30-minute flight, trek to Ghandruk (1940m/6360 ft): 5 – 6 hours trek
Take a flight to Pokhara, and try to sit on the right side of the plane which offers the best views of the Himalayas. Your host will pick you up at the Pokhara airport. Then, take a 1 hour and 20-minute drive to Nayapul (new bridge) on the main road near Birethanti and begin your trek. From Birethanti, trek to Ghandruk, a beautiful village mostly inhabited by the Gurung community. If time permits, you can visit the Gurung museum. Overnight in Ghandruk.
Meals: Breakfast, Lunch, and Dinner

◾ Day 3: Ghandruk to Chhomrong (2170m/7120ft): 5 – 6 hours
Climb uphill for about an hour to Kimrungdanda, while enjoying great views of Annapurna South, Hiunchuli, Fishtail Mountain (Machhapuchhre), and Ganggapurna. Then take a steep descent to the Kimrong Khola. After another steep ascent from Kimrong Khola to Chere Danda, descend for a while, and then it's a gentle walk to Chhomrong, a beautiful village located on the lap of the giant Annapurna.
Overnight in Chhomrong. Meals: Breakfast, Lunch, and Dinner

◾ Day 4: Chhomrong to Bamboo (2310m/7578ft): 4 – 5 hours
Descend 2500 stone steps and cross the bridge above Chhomrong Khola. From here it is an uphill climb to Sinuwa. Next, pass through a beautiful forest to Kuldihar followed by an easy downhill walk to Bamboo.
Overnight in Bamboo. Meals: Breakfast, Lunch, and Dinner

◾ Day 5: Bamboo to Deurali (3230m/10,595ft): 3 – 4 hours
Trek through a damp and cold bamboo forest, then ascend steadily through several steep sections. Upon reaching Himalaya Hotel, the forest opens up to the sun with an astounding view of the glacial river below. Then take a steep climb up through a much drier forest before reaching Hinku Cave where the trail drops closer to the river before climbing again to Deurali, the most scenic stretch of the day. The vegetation is sparser, allowing magical views of the valley, the river below, and the sheer rock-face cliffs above with bands of wispy waterfalls.
Overnight in Deurali.Meals: Breakfast, Lunch, and Dinner

◾ Day 6: Deurali to Annapurna Base Camp (4,130m/13,545ft) via Machhapuchhre Base Camp (3700m/12135ft): 5 – 6 hours
Climb gently through a river bed then over a steep trail over to the mountainside, and then a somewhat strenuous hike from Bagar to Machhapuchhre Base Camp. From the base camp, get excellent views of the majestic Machhapuchhre along with Mt. Hiunchuli, Annapurna South, Annapurna I, Annapurna III, Gandharvachuli, and Gangapurna.

The vegetation becomes scarce thereafter and the path widens as you enter the Annapurna sanctuary. From here, get sensational views of the near-vertical south face of Annapurna towering above you. The sanctuary boasts of a dynamic view without anything impeding the 360-degree panorama. From the base camp, get to savor mesmerizing views of the Machhapuchhre, Annapurna South, Annapurna I, Hiunchuli, and other peaks.
Overnight at Annapurna Base Camp. Meals: Breakfast, Lunch, and Dinner

◾ Day 7: Annapurna Base Camp to Bamboo: 7 – 8 hours
From the Annapurna base camp, retrace your steps downhill to Bamboo. Overnight in Bamboo.
Meals: Breakfast, Lunch, and Dinner

◾ Day 8: Bamboo to Jhinu Danda (1760m/5770 ft): 5 – 6 hours
From Bamboo, it is an uphill trek to Kuldighar followed by a downhill walk to Chhomrong Khola. Then climb the stone steps to Chhomrong. The trail then descends to Jhinu Danda, where you will be resting for the night. You can also take a 15-20 minute walk downhill to enjoy the hot springs.
Overnight in Jhinu Danda. Meals: Breakfast, Lunch, and Dinner

◾ Day 9: Trek to Naya Pul then drive to Pokhara: 6 hours trek, 1-hour drive
Trek from Jhinu Danda to Nayapul, while enjoying the amazing hill landscape of western Nepal. From Nayapul, drive to Pokhara. Overnight in Pokhara. Meals: Breakfast, Lunch
*If the road construction connecting Jhinu Danda to Nayapul is complete, you can skip the trek and drive from Jhinu Danda to Pokhara.

◾ Day 10: Fly to Kathmandu
Fly back to Kathmandu in the afternoon. In Kathmandu, you may spend the day exploring more of the city or shop for souvenirs, lovely pashminas, or intricate artwork. There will be a farewell dinner in the evening. Overnight in Kathmandu. Meals: Breakfast.

◾ Day 11: Your departure day
Your host will take you to the airport in good time to catch your plane back home.
Meals: Breakfast

Other listings from Alpine Club of Himalaya