16-Day Everest Three Passes Trek - Everest High Passes Circuit Trek
16-Day Everest Three Passes Trek - Everest High Passes Circuit Trek
Multi-day Tours & Adventures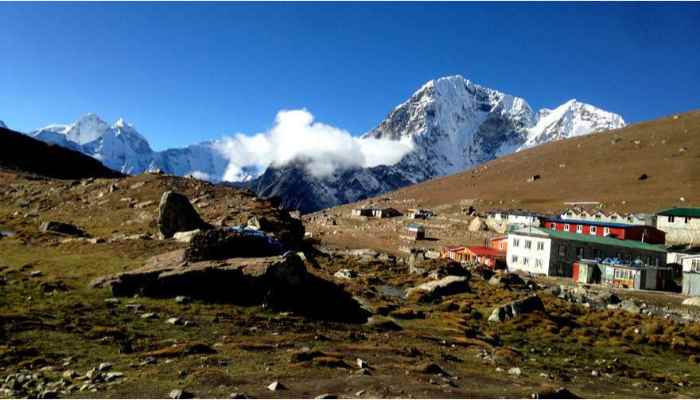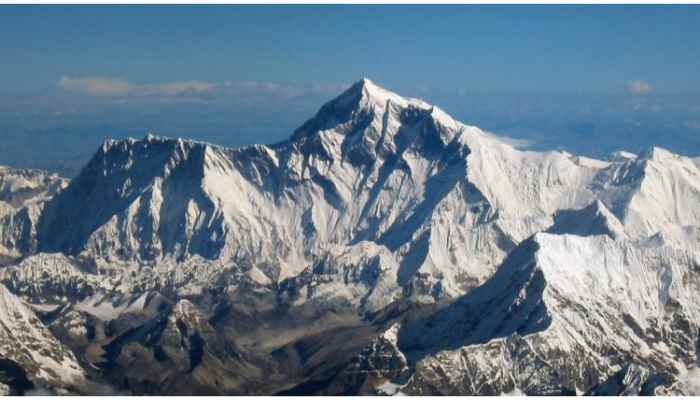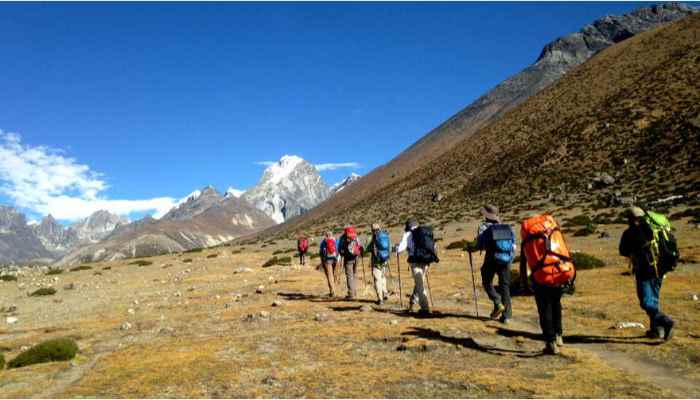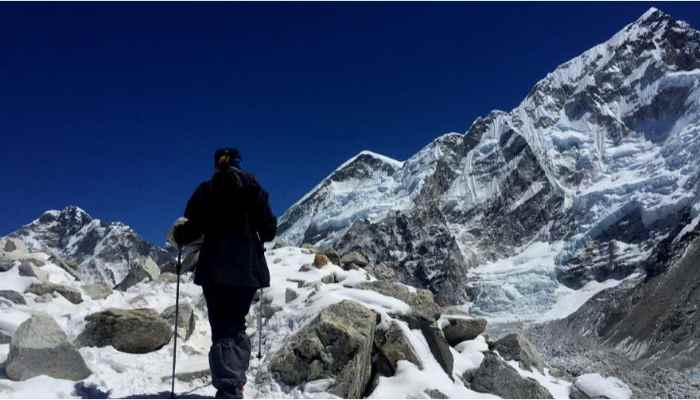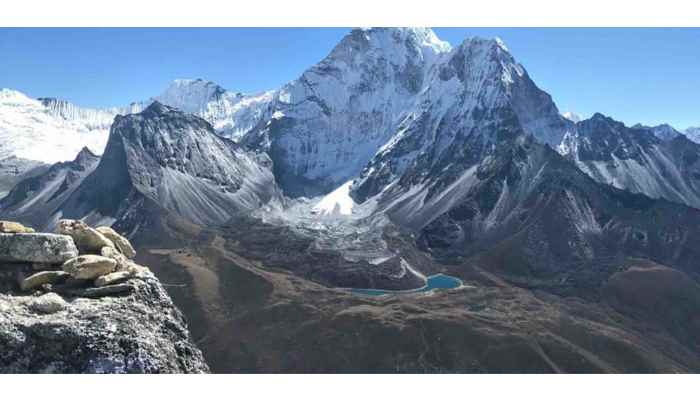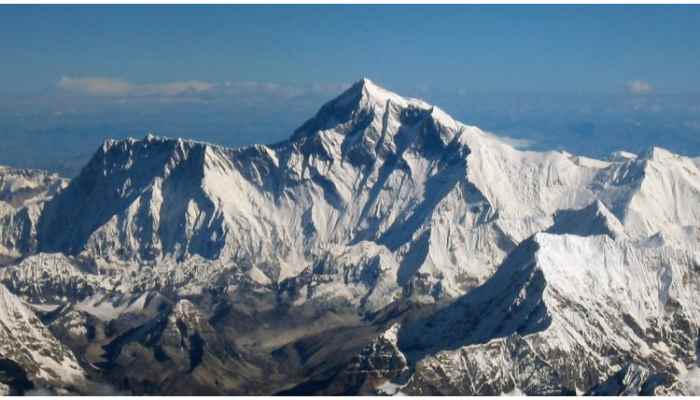 About this experience
✔ English speaking guide and a porter per group of two
✔ Full Board during the trek
✔ Flexible starting date after booking
DURATION: 16 Days (including arrival and departure)
MAXIMUM ALTITUDE: 5535m/18,159ft at Kongma La pass
BEST SEASON: March to May & September to November
WHO CAN COME: Everest three passes trek is demanding and participants must be fit and have considerable experience in trekking long distances. No previous experience in high altitudes is required
Overview
This Everest three passes trek is the ultimate Everest circuit trek meant for only the truly adventurous. The trek comprises three of the passes of the Everest region: Kongma La (5,535/18,159 ft), Cho La (5,420m/17,782ft), and Renjo La (5,340m/17,520ft) which are also the challenging highlights of this trek. Therefore, Everest High Passes Trek is also popularly known as the 'Everest Circuit Trek'.
Your 16-day adventure will take you to the remotest parts of the Khumbu and includes visits to all the main valleys of the region. It is one of the best trekking routes in Nepal and is a very challenging trail with unforgettable memories of the legendary Himalayan mountains. You will explore fascinating Sherpa villages, visit remote Buddhist monasteries, and will soak in incredible mountain landscapes.
24/7 Available Support
For this Everest three passes trek, there is 24/7 support. Please contact us at support@gofreedly.com
Highlights
◾ Get up close to the famed and beautiful Himalayan Range and enjoy incredible views all along
◾ Challenge yourself trekking the three famous passes, Kongma La, Renjo La, and Cho La pass
◾ Follow your local and experienced guide and learn more about the culture and history of the Everest Region
◾ Explore UNESCO World Heritage Sites, and admire the stunning Gokyo Ri and Gokyo Lakes
About this experience
✔ English speaking guide and a porter per group of two
✔ Full Board during the trek
✔ Flexible starting date after booking

DURATION: 16 Days (including arrival and departure)
MAXIMUM ALTITUDE: 5535m/18,159ft at Kongma La pass
BEST SEASON: March to May & September to November
WHO CAN COME: Everest three passes trek is demanding and participants must be fit and have considerable experience in trekking long distances. No previous experience in high altitudes is required
Description - What to expect
Everest Three Passes Trek Itinerary

◾ Day1: Arrival in Kathmandu (1300m/4265ft)
Upon arrival at the Tribhuvan International Airport, your host will pick you up and take you to your hotel. You can take a rest and later explore the city. In the evening, there will be a welcome dinner to experience the excellent Nepalese cuisine.
Included meals: Dinner

◾ Day 2: Fly to Lukla, trek to Phakding (2,651m/8,700ft), 40 minutes flight, 3 – 4 hours trek
All treks to Everest begin from Lukla where you will take an early flight after breakfast. The flight itself is an amazing experience since you will be flying amidst the grand Himalayas in a Twin Otter airplane. Then, immediately after landing, begin a short trek to Phakding. After an hour of gradual descent, reach Cheplung village from where you will have a glimpse of Mt. Khumbila (18900ft), a sacred mountain that has never been climbed. From Cheplung, continue descending to Phakding and spend the night.
Included meals: Breakfast Lunch Dinner

◾ Day 3: Phakding to Namche Bazaar (3,438m/11,280 ft), 5 – 6 hours trek
Begin the day with uphill and then downhill trek trails with multiple crossings over the Dudh Koshi River and a magnificent view of Mt. Thamserku (21,675ft) from the Benkar village. Then cross more bridges and reach the entrance of Sagarmatha National Park at Monjo, where our trekking permits are checked. We walk furthermore and pass through Jorsale village before reaching Namche Bazaar. From here, you get beautiful views of the Himalayas including Everest, Lhotse, Tawache, and others. Overnight in Namche Bazaar.
Included meals: Breakfast Lunch Dinner

◾ Day 4: Namche Bazaar: Rest and acclimatization
This is the first of the three scheduled rest days which will help you acclimatize to the high altitude. Hike up to Everest View Hotel to enjoy incredible views of the Himalayas. On your way back to Namche see the Khumjung Monastery and the Hillary School. You can also visit the Tourist Visitor Center near the headquarter of the Sagarmatha National Park where you can witness a collection of items related to the first Everest ascenders, Sherpa culture and learn about the various plant and animal life in the Everest region.
Overnight in Namche Bazaar. Included meals: Breakfast, lunch, dinner

◾ Day 5: Namche Bazaar to Tengboche (3860m/12,660 ft), 5 – 6 hours trek
Today's trek begins on an easy trail to Phunki Thanga and then an ascend towards Tengboche village, home to the largest monastery in the Everest region. The monastery is located within the Sagarmatha National Park and provides panoramic views of the highest mountains on earth including Everest, Ama Dablam, Thamserku, Nuptse, and Lhotse. We will reach the monastery by 3 pm and may even be able to witness a religious Buddhist ceremony.
Overnight in Tengboche. Includes meals: Breakfast, lunch, dinner

◾ Day 6: Tengboche to Dingboche (4,360 m/14,300 ft), 5 – 6 hours trek
Today's trek starts with walking downhill, passing through lush forests filled with birch, conifers, and rhododendron trees. Then, continue the trek with views of Mt. Everest, Lhotse, and Ama Dablam keeping you company. The picturesque trail dips down to Debuche, crosses the Imja River, and takes you to Pangboche. While walking the upper Pangboche trails, get incredible views of the Himalayas. Push ahead towards the Imja Valley, Lobuche River, and ultimately climb up to Dingboche. The village is a beautiful windy settlement overlooked by chortens and prayer flags.
Overnight in Dingboche. Included meals: Breakfast, lunch, dinner

◾ Day 7: Dingboche to Chhukung (4750m/15,580 ft), climb Chhukung Ri (5,546m), 6 – 7 hours trek
Today's trail passes through stone-walled fields and Imja Khola valley before entering glacier moraines amidst towering Himalayas. The trail continues to Bibre, a yak herdsman place. Directly across the valley rest the fantastic Ama Dablam and the Amphu Labsa mountains. The trail ahead is intersected by icy streams as you walk for around half an hour to reach Chhukung.

After lunch, continue trekking towards Chhukung Ri. The climb to Chhukung Ri involves some easy scrambling near the summit. From the top, you can look directly across the valley for a fantastic view of Ama Dablam and Amphu Labcha peaks. Descend back to Chhukung to spend the night.
Included meals: Breakfast, lunch, dinner

◾ Day 8: Cross to Kongma La pass (5535m/18,159ft), trek to Lobuche (4940m/16,210ft), 6 – 7 hours trek
Today's trek will start early in the morning to reach the highest part of the entire trip which is Kongma La pass. You can either take a trail over a hill which is to the northwest of Chhukung over the Nuptse Glacier moraines or walk back to Bibre and trek on the trail above the Niyang Khola. The top of the pass is marked by cairns and Buddhist prayer flags. The final descent from the pass is the most difficult part of today's journey. After climbing the moraine on the far side, the trail turns north through Khumbu Glacier which takes you to Lobuche.
Overnight at Lobuche. Included meals: Breakfast, lunch, dinner

Note: Trek through Kongma La is optional. If you do not want to tackle the strenuous Kongma La pass you can go directly to Lobuche.

◾ Day 9: Lobuche to Dzongla (4830m/15,850 ft), 3 – 4 hours trek
From Lobuche, trek downhill on a trail alongside the Khumbu Glacier. On the way, admire the view of the looming Awi Peak while passing through a stupa with tombstones in the distance. After walking for a while begin to ascend with views of the beautiful Chola Tsho Lake. Continue your trek passing another lake and then cross the Chola Khola on a bridge before reaching Dzongla.
Overnight in Dzongla. Included meals: Breakfast, lunch, dinner

◾ Day 10: Trek to Gokyo (4800m/15,580 ft) via Cho La pass (5368m/17,611 ft), 7 – 8 hours trek
As you gain height, the Cho La Lake begins to appear and the Ama Dablam presides over a range of mountains on the south with Cholatse soaring on the west. The final climb to the Cho La can be a little tricky as the trail curves around a crevasse. The top of the pass is marked by prayer flags and cairns.

The scenery of majestic peaks in all directions is breathtaking. Although long, the path leading down to Thangnak is an easy one. The trail brings you to the edge of the Ngozumpa glacier, the longest glacier in Nepal. Reaching the other side of the glacier, see the second Gokyo Lake on the series of six lakes, while a short distance away is the third Gokyo Lake. On the edge of this lake stands the Gokyo Village where you are going to spend the night.
Included meals: Breakfast, lunch, dinner

◾ Day 11: Rest day in Gokyo: Climb Gokyo Ri (5357m/17,575 ft), tour 4th and 5th Gokyo lakes, 3 – 4 hours trek
Today you are going to climb Gokyo Ri and enjoy views of the incredible mountains surrounding you. You can also tour the fourth Gokyo Lake today, located 3km north of the Gokyo Village. Next, continue trekking to the 5th lake in the row. The view from 'Scoundrel's Viewpoint', located at the edge of the 5th lake, is remarkable. Cho-Oyu, Gyachung Kang, Everest, Lhotse, Nuptse, and Makulu mountains and the huge Ngozumba Glacier are there to admire and capture with your camera. Then trek back to Gokyo and spend the night.
Included meals: Breakfast, lunch, dinner

◾ Day 12: Gokyo to Marlung (4210m/13,810 ft) via Renjo La Pass (5360m/17585 ft), 7 – 8 hours trek
Today's trek starts early in the morning to complete the long day's trek ahead. The trail moves alongside lake Dudh Pokhari, before descending towards the Renjo La pass. On the way, you will be rewarded with fantastic views of the Himalayan and Rolwaling ranges. Views from the Renjo La pass are much like that from Gokyo Ri with the third Gokyo Lake and Gokyo Village beneath the gray smear of the Ngozumpa Glacier.

Continuing on from the pass, the trail winds down a stone staircase and then moves over loose scree to reach the south bank of Angladumba Tsho Lake. The presence of ice on the trail while descending down can make your descent a bit hazardous. Along the way, admire Relama Tsho and Renjo Lake. Walk down a narrow valley clogged with giant boulders to Lumde where there is a support lodge and from there to Marlung on the east bank of the Bhote Koshi River.
Overnight at Marlung. Included meals: Breakfast, lunch, dinner

◾ Day 13: Marlung to Namche Bazaar: 5 – 6 hours trek
The descent from Marulung to Thame follows a traditional route used for centuries by the Tibetan traders. Cross the Bhote Koshi River and descend to Taranga. The trail continues to descend crossing two bridges before reaching Thame. Overlooking Thame is the famous Gompa situated on a hill to the west. From there, descend gradually on a trail that passes through a few small villages before reaching Namche Bazaar, the biggest town in the Everest region.
Overnight in Namche Bazaar. Included meals: Breakfast, lunch, dinner

◾ Day 14: Namche Bazaar to Lukla: 6 – 7 hours trek
Today's trek begins with a descent crossing several bridges over the fast-flowing Dudh Koshi River and its tributaries. Now the trail is getting flat and enjoyable as you walk through rhododendron and pine forests marveling at distant views of the snow-covered peaks. After reaching Lukla, take a well-deserved rest recalling the experiences of the last couple of weeks.
Overnight in Lukla. Included meals: Breakfast, lunch, dinner

◾ Day 15: Lukla to Kathmandu: 40 minutes flight
After reaching the capital, you can choose to have a rest or go shopping for souvenirs and gifts for your loved ones. In the evening, there will be a farewell dinner to celebrate the successful completion of your journey to the mountains.
Overnight in Kathmandu. Included meals: Breakfast, dinner

◾ Day 16: Departure day
A company representative will pick you up from your hotel and drop you off at the airport 3 hours before your scheduled flight. Meals: Breakfast
Free Cancellation
◾ If you cancel your Everest three passes trek up to 15 days before departure you forfeit your deposit only
◾ If you cancel your tour between 15 and 7 days before departure you forfeit 50% of the tour cost
◾ If you cancel your tour within 7 days from the start of your experience you forfeit 100% of your tour cost
◾ You can reschedule the starting time of your experience up to 15 days prior to the original starting time for free. If your want to reschedule your starting time within 15 days prior to departure extra fees might apply
◾ No refunds are made if you voluntarily leave a trip for any reason after the trip starts
◾ No refunds will be made for accommodation, transport, sightseeing, meals, or any services not used
What's included, what's not
✔ All airport/hotel pick up and drop in private car/van
✔ 2 Nights Hotel in Kathmandu including breakfast
✔ 13 Nights stay in Tea House during the trek with sharing Bathroom
✔ An experienced English-speaking trekking guide and a porter during the trek
✔ Salary, food, insurance, and lodging cost for guide and porter ( 2 Trekkers-1 Porter )
✔ During the Trek, breakfast, lunch, dinner, and 1 tea/coffee
✔ Welcome and farewell meals and breakfasts while in Kathmandu
✔ National Park permit and TIMS for Everest
✔ Airfare from Kathmandu to Lukla and return flight to Kathmandu and domestic flight departure taxes
✔ Down Jacket and Sleeping Bag that needs to be returned to the office after trek completion
✔ ACH Kitbag and T- shirt for you

✖ Nepal entry visa fees
✖ International airfare and departure tax
✖ Bar bills, laundry, and other expenses of personal nature
✖ Travel insurance including evacuation
✖ Tips for local staff, guides, and porters
✖ Desserts, Wi-Fi charges and mineral water
Bring with you
For this Everest Three Passes Trek, we recommend carefully considering all essentials to take with you. (an extensive list can be provided on request) The weight limit for your luggage is 33 pounds or 15 kg. Remember that your luggage will be carried by your porter but you are required to carry a day-pack (with your valuables or anything important) on your own.
Accommodation offer
You will be accommodated in Alpine Hotel and Apartments or similar hotels in Kathmandu and standard tea houses during trekking. All accommodations in Kathmandu and tea houses are on a twin-shared basis.
Prepare for the experience
◾ Autumn (September to November) and Spring (March to May) are the best seasons for Everest Three Passes Circuit Trek. The weather is sunny and warm with outstanding views. If you wish to avoid crowds and enjoy some time alone with nature, then taking this trip during winter (December, January, and February) could also be an option. However, the temperatures during winter could be harsh, while during the Summer or Monsoon seasons (June to August) you can expect lots of rain.

◾ Your safety is of paramount importance and your host has the authority to cancel the trip or change the itinerary, when deemed necessary or when there is reason to believe your safety is at stake. Weather conditions, the health condition of a group member, natural disasters, and such, can contribute to changes in the itinerary when traveling in remote mountainous regions. In these extreme situations, we kindly request that you offer your full co-operation to the trusted leader of the group.

◾ Passport & Nepal visas
All clients must have a valid passport with at least six months validity from the return date. A Nepalese visa can be obtained from the Nepalese Embassies or Consulate in your country or on arrival at Kathmandu Airport. Nepalese visas cost is the personal responsibility of clients.
Health and safety
Nepal is open to fully vaccinated people. Provider complies with local legislation and applicable health recommendations with regard to Covid-19 prevention measures
Description - What to expect
Everest Three Passes Trek Itinerary

◾ Day1: Arrival in Kathmandu (1300m/4265ft)
Upon arrival at the Tribhuvan International Airport, your host will pick you up and take you to your hotel. You can take a rest and later explore the city. In the evening, there will be a welcome dinner to experience the excellent Nepalese cuisine.
Included meals: Dinner

◾ Day 2: Fly to Lukla, trek to Phakding (2,651m/8,700ft), 40 minutes flight, 3 – 4 hours trek
All treks to Everest begin from Lukla where you will take an early flight after breakfast. The flight itself is an amazing experience since you will be flying amidst the grand Himalayas in a Twin Otter airplane. Then, immediately after landing, begin a short trek to Phakding. After an hour of gradual descent, reach Cheplung village from where you will have a glimpse of Mt. Khumbila (18900ft), a sacred mountain that has never been climbed. From Cheplung, continue descending to Phakding and spend the night.
Included meals: Breakfast Lunch Dinner

◾ Day 3: Phakding to Namche Bazaar (3,438m/11,280 ft), 5 – 6 hours trek
Begin the day with uphill and then downhill trek trails with multiple crossings over the Dudh Koshi River and a magnificent view of Mt. Thamserku (21,675ft) from the Benkar village. Then cross more bridges and reach the entrance of Sagarmatha National Park at Monjo, where our trekking permits are checked. We walk furthermore and pass through Jorsale village before reaching Namche Bazaar. From here, you get beautiful views of the Himalayas including Everest, Lhotse, Tawache, and others. Overnight in Namche Bazaar.
Included meals: Breakfast Lunch Dinner

◾ Day 4: Namche Bazaar: Rest and acclimatization
This is the first of the three scheduled rest days which will help you acclimatize to the high altitude. Hike up to Everest View Hotel to enjoy incredible views of the Himalayas. On your way back to Namche see the Khumjung Monastery and the Hillary School. You can also visit the Tourist Visitor Center near the headquarter of the Sagarmatha National Park where you can witness a collection of items related to the first Everest ascenders, Sherpa culture and learn about the various plant and animal life in the Everest region.
Overnight in Namche Bazaar. Included meals: Breakfast, lunch, dinner

◾ Day 5: Namche Bazaar to Tengboche (3860m/12,660 ft), 5 – 6 hours trek
Today's trek begins on an easy trail to Phunki Thanga and then an ascend towards Tengboche village, home to the largest monastery in the Everest region. The monastery is located within the Sagarmatha National Park and provides panoramic views of the highest mountains on earth including Everest, Ama Dablam, Thamserku, Nuptse, and Lhotse. We will reach the monastery by 3 pm and may even be able to witness a religious Buddhist ceremony.
Overnight in Tengboche. Includes meals: Breakfast, lunch, dinner

◾ Day 6: Tengboche to Dingboche (4,360 m/14,300 ft), 5 – 6 hours trek
Today's trek starts with walking downhill, passing through lush forests filled with birch, conifers, and rhododendron trees. Then, continue the trek with views of Mt. Everest, Lhotse, and Ama Dablam keeping you company. The picturesque trail dips down to Debuche, crosses the Imja River, and takes you to Pangboche. While walking the upper Pangboche trails, get incredible views of the Himalayas. Push ahead towards the Imja Valley, Lobuche River, and ultimately climb up to Dingboche. The village is a beautiful windy settlement overlooked by chortens and prayer flags.
Overnight in Dingboche. Included meals: Breakfast, lunch, dinner

◾ Day 7: Dingboche to Chhukung (4750m/15,580 ft), climb Chhukung Ri (5,546m), 6 – 7 hours trek
Today's trail passes through stone-walled fields and Imja Khola valley before entering glacier moraines amidst towering Himalayas. The trail continues to Bibre, a yak herdsman place. Directly across the valley rest the fantastic Ama Dablam and the Amphu Labsa mountains. The trail ahead is intersected by icy streams as you walk for around half an hour to reach Chhukung.

After lunch, continue trekking towards Chhukung Ri. The climb to Chhukung Ri involves some easy scrambling near the summit. From the top, you can look directly across the valley for a fantastic view of Ama Dablam and Amphu Labcha peaks. Descend back to Chhukung to spend the night.
Included meals: Breakfast, lunch, dinner

◾ Day 8: Cross to Kongma La pass (5535m/18,159ft), trek to Lobuche (4940m/16,210ft), 6 – 7 hours trek
Today's trek will start early in the morning to reach the highest part of the entire trip which is Kongma La pass. You can either take a trail over a hill which is to the northwest of Chhukung over the Nuptse Glacier moraines or walk back to Bibre and trek on the trail above the Niyang Khola. The top of the pass is marked by cairns and Buddhist prayer flags. The final descent from the pass is the most difficult part of today's journey. After climbing the moraine on the far side, the trail turns north through Khumbu Glacier which takes you to Lobuche.
Overnight at Lobuche. Included meals: Breakfast, lunch, dinner

Note: Trek through Kongma La is optional. If you do not want to tackle the strenuous Kongma La pass you can go directly to Lobuche.

◾ Day 9: Lobuche to Dzongla (4830m/15,850 ft), 3 – 4 hours trek
From Lobuche, trek downhill on a trail alongside the Khumbu Glacier. On the way, admire the view of the looming Awi Peak while passing through a stupa with tombstones in the distance. After walking for a while begin to ascend with views of the beautiful Chola Tsho Lake. Continue your trek passing another lake and then cross the Chola Khola on a bridge before reaching Dzongla.
Overnight in Dzongla. Included meals: Breakfast, lunch, dinner

◾ Day 10: Trek to Gokyo (4800m/15,580 ft) via Cho La pass (5368m/17,611 ft), 7 – 8 hours trek
As you gain height, the Cho La Lake begins to appear and the Ama Dablam presides over a range of mountains on the south with Cholatse soaring on the west. The final climb to the Cho La can be a little tricky as the trail curves around a crevasse. The top of the pass is marked by prayer flags and cairns.

The scenery of majestic peaks in all directions is breathtaking. Although long, the path leading down to Thangnak is an easy one. The trail brings you to the edge of the Ngozumpa glacier, the longest glacier in Nepal. Reaching the other side of the glacier, see the second Gokyo Lake on the series of six lakes, while a short distance away is the third Gokyo Lake. On the edge of this lake stands the Gokyo Village where you are going to spend the night.
Included meals: Breakfast, lunch, dinner

◾ Day 11: Rest day in Gokyo: Climb Gokyo Ri (5357m/17,575 ft), tour 4th and 5th Gokyo lakes, 3 – 4 hours trek
Today you are going to climb Gokyo Ri and enjoy views of the incredible mountains surrounding you. You can also tour the fourth Gokyo Lake today, located 3km north of the Gokyo Village. Next, continue trekking to the 5th lake in the row. The view from 'Scoundrel's Viewpoint', located at the edge of the 5th lake, is remarkable. Cho-Oyu, Gyachung Kang, Everest, Lhotse, Nuptse, and Makulu mountains and the huge Ngozumba Glacier are there to admire and capture with your camera. Then trek back to Gokyo and spend the night.
Included meals: Breakfast, lunch, dinner

◾ Day 12: Gokyo to Marlung (4210m/13,810 ft) via Renjo La Pass (5360m/17585 ft), 7 – 8 hours trek
Today's trek starts early in the morning to complete the long day's trek ahead. The trail moves alongside lake Dudh Pokhari, before descending towards the Renjo La pass. On the way, you will be rewarded with fantastic views of the Himalayan and Rolwaling ranges. Views from the Renjo La pass are much like that from Gokyo Ri with the third Gokyo Lake and Gokyo Village beneath the gray smear of the Ngozumpa Glacier.

Continuing on from the pass, the trail winds down a stone staircase and then moves over loose scree to reach the south bank of Angladumba Tsho Lake. The presence of ice on the trail while descending down can make your descent a bit hazardous. Along the way, admire Relama Tsho and Renjo Lake. Walk down a narrow valley clogged with giant boulders to Lumde where there is a support lodge and from there to Marlung on the east bank of the Bhote Koshi River.
Overnight at Marlung. Included meals: Breakfast, lunch, dinner

◾ Day 13: Marlung to Namche Bazaar: 5 – 6 hours trek
The descent from Marulung to Thame follows a traditional route used for centuries by the Tibetan traders. Cross the Bhote Koshi River and descend to Taranga. The trail continues to descend crossing two bridges before reaching Thame. Overlooking Thame is the famous Gompa situated on a hill to the west. From there, descend gradually on a trail that passes through a few small villages before reaching Namche Bazaar, the biggest town in the Everest region.
Overnight in Namche Bazaar. Included meals: Breakfast, lunch, dinner

◾ Day 14: Namche Bazaar to Lukla: 6 – 7 hours trek
Today's trek begins with a descent crossing several bridges over the fast-flowing Dudh Koshi River and its tributaries. Now the trail is getting flat and enjoyable as you walk through rhododendron and pine forests marveling at distant views of the snow-covered peaks. After reaching Lukla, take a well-deserved rest recalling the experiences of the last couple of weeks.
Overnight in Lukla. Included meals: Breakfast, lunch, dinner

◾ Day 15: Lukla to Kathmandu: 40 minutes flight
After reaching the capital, you can choose to have a rest or go shopping for souvenirs and gifts for your loved ones. In the evening, there will be a farewell dinner to celebrate the successful completion of your journey to the mountains.
Overnight in Kathmandu. Included meals: Breakfast, dinner

◾ Day 16: Departure day
A company representative will pick you up from your hotel and drop you off at the airport 3 hours before your scheduled flight. Meals: Breakfast

Other listings from Alpine Club of Himalaya