Pylos Kayaking: Half-day Pylos Kayaking Tour near Kalamata
Posted on 2019-10-19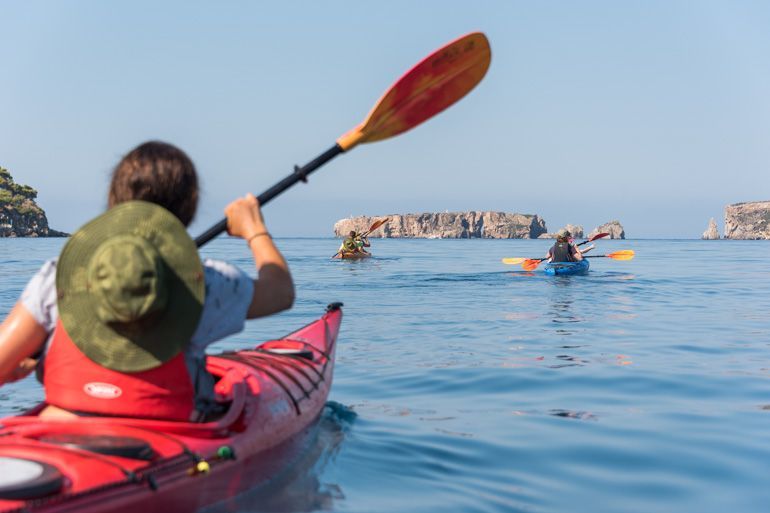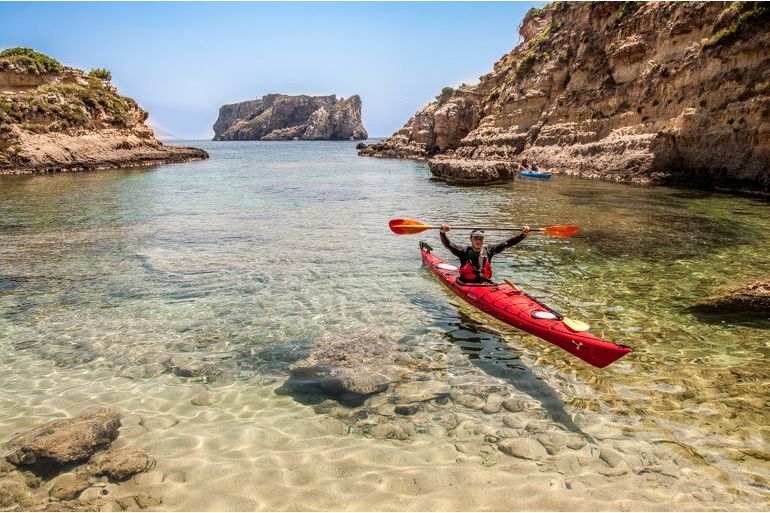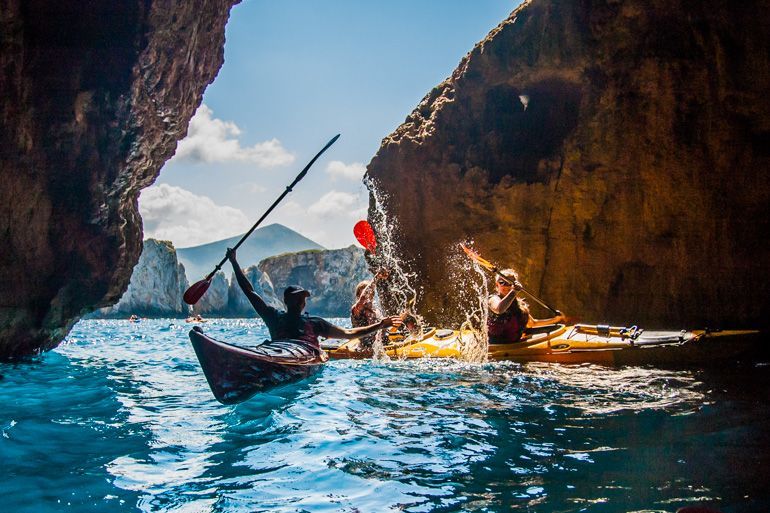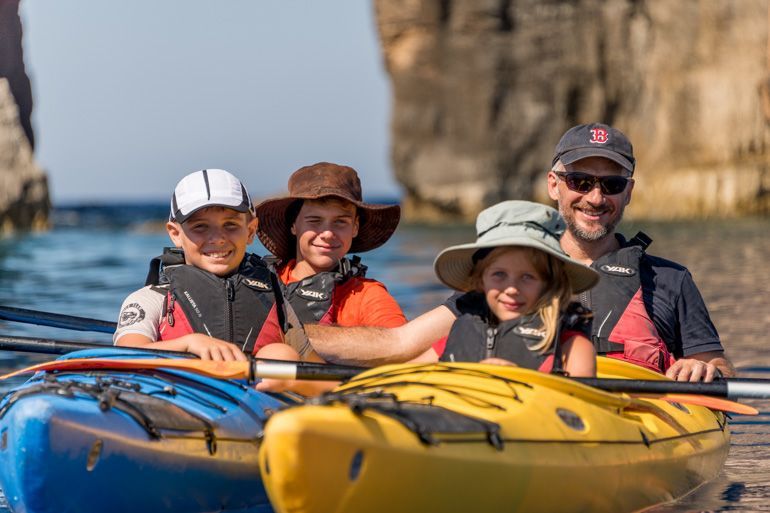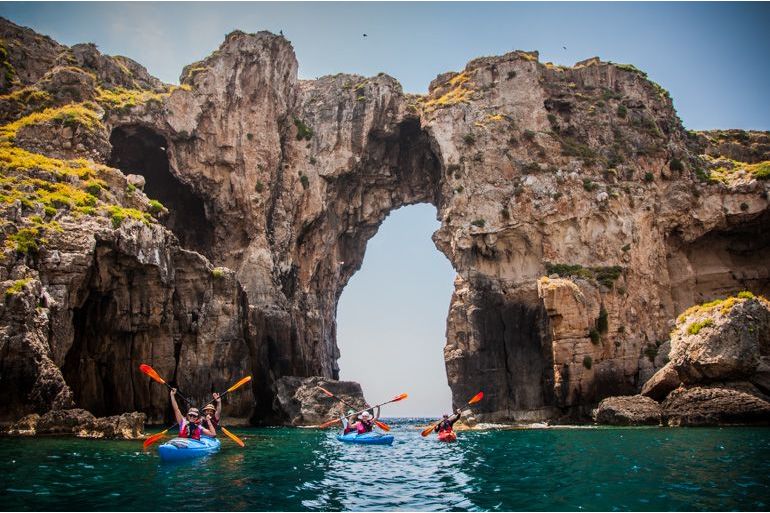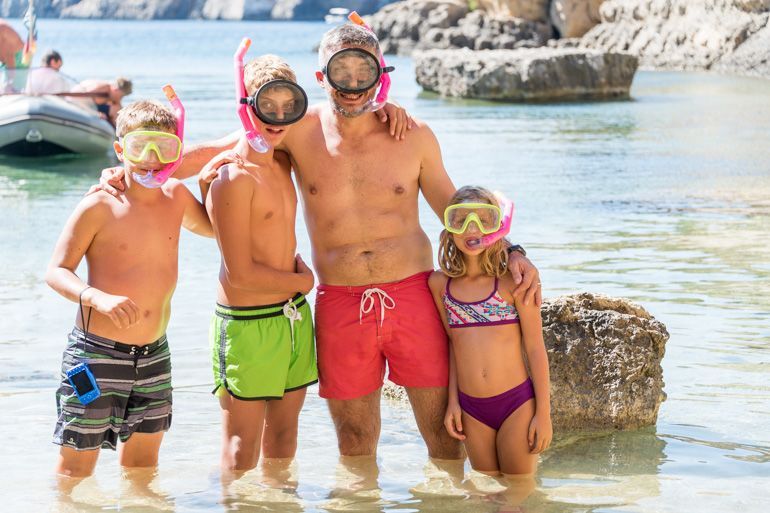 Additional activities/services offered
Overview
Take a half-day sea kayaking tour from Pylos, one of the most spectacular areas of the Peloponnese in southern Greece. During your Pylos kayaking tour, paddle your kayak at a relaxed pace, explore sea caves, visit remote islets, and stop for swimming and snorkeling at a secluded beach.
◾ Admire the town of Pylos and the castle of Niokastro as you paddle along the coast
◾ Explore Tsihli Baba, an imposing monolithic islet with an impressive rock arch at its northern tip
◾ Discover the natural beauty of southern Greece and swim and snorkel in crystal-clear waters
◾ Enjoy a delicious picnic lunch made out of local products
About this experience
DURATION: 4-5 hours
STARTING TIME: 9.30 am
MEETING POINT: Divari beach, Pylos
LANGUAGES: English, Greek
DIFFICULTY: Easy, no previous experience required
OPENING SEASON: April to October
WHO CAN COME: Pylos Kayaking is a family-friendly activity. Children can use their own Kayak over the age of 13, provided there is an adult with them in the group and they are capable of paddling on their own.
Description - What to expect
The area
Navarino Bay is a natural harbor and an ideal spot for Sea Kayaking trips. Across Gialova and Pylos, the island of Sphacteria stands as a wave breaker, protecting the bay from winds of the Ionian Sea, forming an idyllic landscape covered with a veil of tranquillity. A landscape is of incredible natural beauty, with impressive rock formations, sea caves, warm, crystal clear waters, and golden sandy beaches where sea turtles often return to lay their eggs. Two medieval castles guard the bay, recalling the famous naval battle of Navarino, one of the most important events of modern Greek history.

The Kalamata kayaking trip
Sea kayaking in Navarino Bay offers you the experience of remoteness with a visit to the island of Sphacteria. During your tour, explore magnificent rock formations and sea caves, relax on a hidden cove with a secluded beach, and spot some migrant birds sea turtles, or seals.

Your Pylos kayaking tour starts from the marina of Pylos. Before departing, you will be briefed on tour details, kayak paddling techniques, and safety measures. Soon you will be paddling by the town of Pylos and the castle of Niokastro heading towards the Tsihli Baba, an imposing monolithic islet with an impressive rock arch formed at its northern tip.

If the weather allows you will circumnavigate the islet, visit a few of its sea caves, and paddle through its tunnels and arches. Next, stop at the only accessible from the sea beach of the island of Sphacteria. During your break, take time to swim, snorkel, sunbathe, rest and enjoy a delicious picnic with freshly baked bread, organic garden-grown fruits and vegetables, homemade olive oil, and cheese.

Once the lunch stop is over, you will paddle back to the starting point for the finale of your tour.
What's included, what's not
✔ Qualified BC 3-5 Star sea kayak leader who also holds first-aid certificate
✔ Full sea kayak equipment; boat, paddle, life jacket, spray-skirt, waterproof jacket
✔ Extra equipment: waterproof bags and cases, pumps, and paddle float
✔ Snorkeling equipment (masks & snorkels)
✔ Land-based safety and instructional briefing
✔ Sea kayaking paddling instructions
✔ Picnic with freshly baked bread, fruits and vegetables, homemade olive oil, and cheese
✔ Waterproof camera and photographs from the trip
✔ Liability insurance
✔ All taxes
✖ Transfers from/to your hotel
Bring with you
For your Pylos kayaking tour please bring a bottle of water, a hat, t-shirt, sunscreen, towel, change of clothes, swimsuit, and flip flops
Who can come/Other requirements
The majority of our day trips are suitable for beginners. We keep a stable and comfortable paddling pace and there's sufficient rest time during our stops. A day trip comprises 30 minutes of briefing and preparation, 2-2.5 hours of comfortable paddling exploration, 1-1.5 hours of free time for a picnic, rest, snorkeling, swimming, and other activities. Our experienced trip leaders ensure that everybody is happy, safe, and is having a fun day
Cutoff time before activity
Prepare for the experience - Important information
We reserve the right to modify or cancel any outdoor activity due to bad weather, technical difficulties or any reason beyond our control. The meeting point and the trip course is likely to change due to weather conditions and wind direction.
Frequently Asked Questions
Question: Do I need a sea kayaking experience?
Answer: No, most of our customers are first-timers. Sea kayaking is easy to pick up, and beginners can complete a decent journey on their first time in a sea kayak. All of our trips are about journeying. We paddle at a relaxed pace, we learn on the move, and enjoy the freedom that sea kayaking offers.

Question: Is the Pylos Kayaking tour suitable for families with kids?
Answer: Absolutely, Yes! Sea kayaking is a beautiful way for your child to explore the outdoors. There are so many reasons to love sea kayaking with kids. You are watching them gain confidence in the water, giving them the chance to see places from a different perspective, teaching them about marine conservation and the environment. Kids just love it.

Question: What is the minimum age for a kid to join the Pylos Kayaking tour
Answer: Kids from 5 to 12 may join a regular trip as a subgroup of a standard group trip, and a private guide will be provided for extra care and better enjoyment of the journey. We always put kids in double kayaks with one parent and stay with them at all times. If your kids are over 13 sporty and confident, then they may be able to paddle their sea kayaks.

Question: What kind of fitness level do I need to take part in?
Answer: Sea kayaking is similar in intensity to walking. It is an easy aerobic exercise, occasionally turning into moderate, involving lots of different muscle groups but mainly the muscles of the torso and upper body. Keep in mind that the most important thing is to have fun and to enjoy the journey. We'll take plenty of breaks and paddle at an achievable pace.

Question: Is lunch provided?
Answer: Yes, indeed, simple, nutritious, and flavorsome, the food is one of the pleasures during our trips. Halfway we make a relaxing stop at a beach to taste a picnic with freshly baked bread, organic garden-grown fruits and vegetables, homemade olive oil, and cheese.

Question: What route will we take?
Answer: We usually perform our tours within a certain route aiming to visit the most beautiful spots each trip has to offer. However, your guide is likely to choose an alternative route that suits the conditions of the day and the experience and needs of the group. This is the safest and best way to operate sea kayak trips.

Question: Will I learn about sea kayak skills?
Answer: Although our trips are primarily about guided experiences, you will also learn entry-level paddling techniques as part of the journey. A lot of learning about sea kayaking comes from experience and is best done as individuals on the move and in context. You will be free to spend a few moments practicing skills and techniques during the break. However, if you want to learn more skills and benefit from individualized coaching, then a private trip would be a suitable option.

Question: What is the weather like?
Answer: Greece has a Mediterranean climate and one of the sunniest climates worldwide. The weather along the coasts is warm from April to October. The wind speed and sea state are the primary factors that affect whether we will run the trip. If the conditions are dangerous, then we will cancel, and you won't be charged, we can try and re-schedule if possible.

Other listings from Explore Messinia