Madrid Skydiving: Tandem Skydiving Near Madrid
Posted on 2021-03-02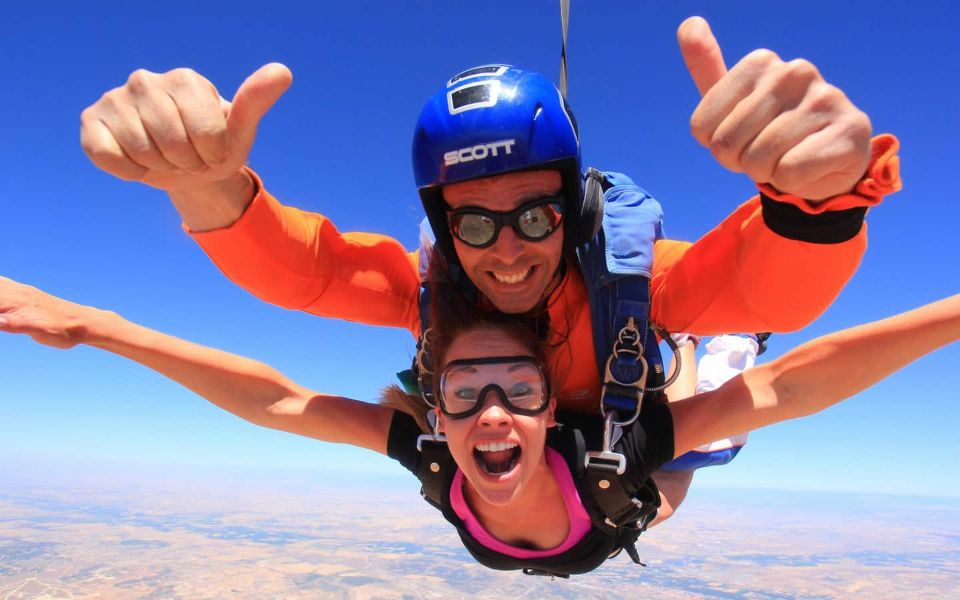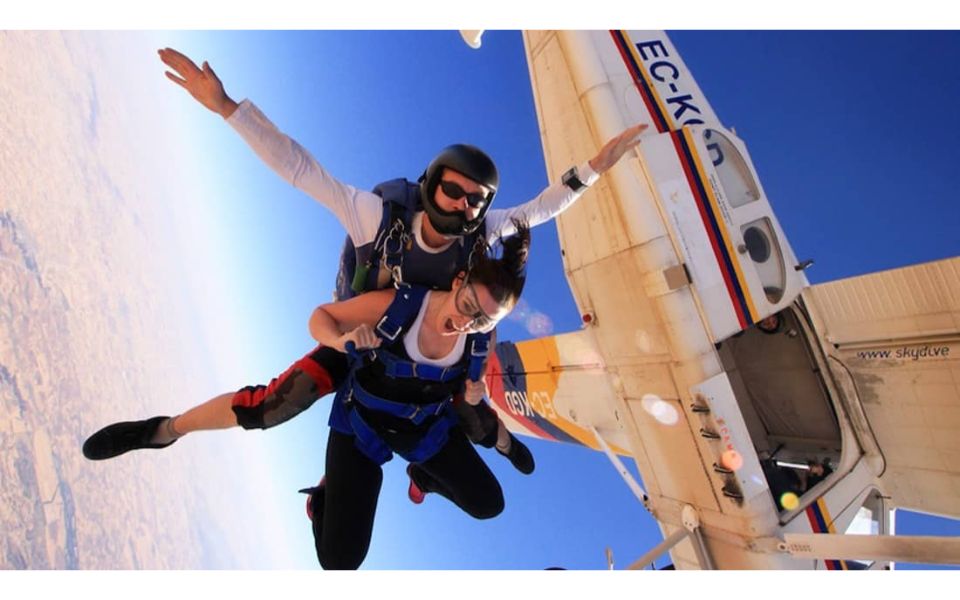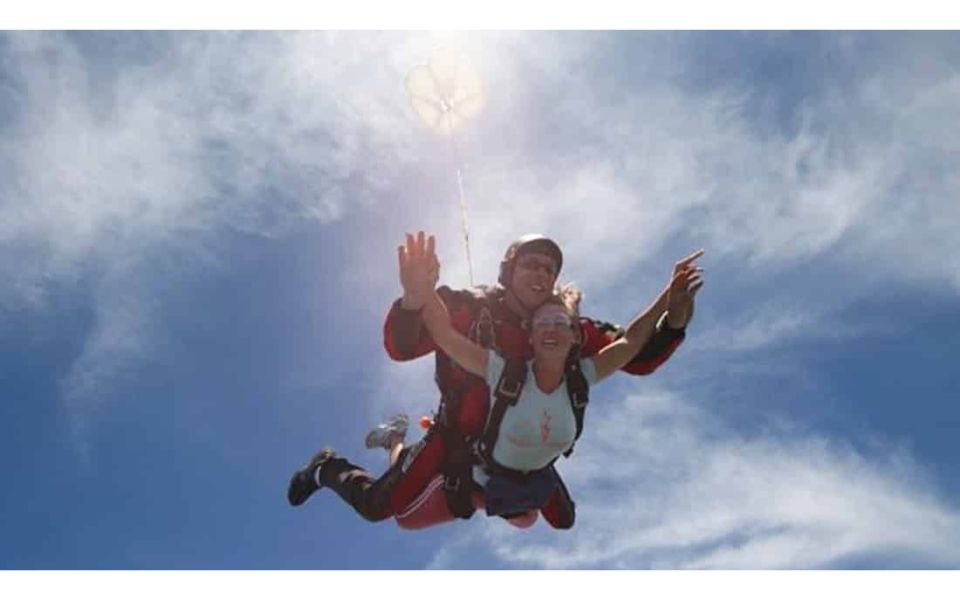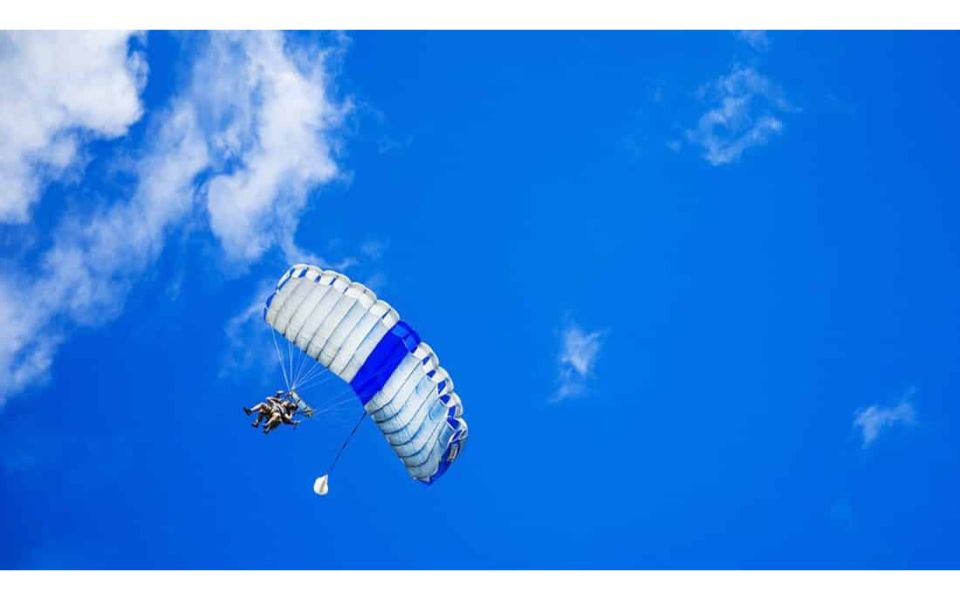 Additional activities/services offered
Overview
Madrid skydiving is your best opportunity to live the ultimate adrenaline rush experience. Only an- hour's drive from Madrid, get all the safety instructions from your experienced guide, hop onboard the plane, and flight up to 4.000 meters for a 50 seconds free fall skydiving experience. Enjoy the freefall followed by the opening of the parachute by your instructor and enjoy a 5-minute gliding back down to earth.
◾ Jump and feel the adrenaline rush of Skydiving in Madrid
◾ Experience 50 seconds of free fall at over 200 km/h (120 miles per hour) fasten on your instructor
◾ Enjoy a 5 minutes canopy flight to the landing zone
About this experience
DURATION: 3 hours
MEETING POINT: Abba hotel, Avenida De America 32, Madrid
LANGUAGES: English, Spanish
OPENING SEASON: All year round
WHO CAN COME: Madrid skydiving is for anyone above the age of 10, in good health. No previous experience is required
What's included, what's not
✔ Certified skydiving instructor and pilot
✔ Ground training before the skydive
✔ A 20-minute flight
✔ Skydive from 4.000 meters (12.500 ft) including 50 seconds of free fall (approximately)
✔ All equipment provided
✔ Accident Insurance and Civil Liability Insurance.
✔ Hotel Pickup & dropoff service
✖ Food & Drinks.
✖ Optional Video & Pictures
Description - What to expect
Your Madrid skydiving experience starts with a pick-up from your hotel and an- hour's drive from Madrid to the take-off location in Ocaña. Before boarding the plane, you will be appropriately equipped for the flight and the jump. Listen to your experience leader giving you all the instructions and guidelines for a fascinating jump and landing. A tandem skydiving is the best way to experience the thrill of free fall at a speed over 200 km/h (120 miles per hour), while securely attached to your qualified instructor.

Hop on your plane for your Madrid skydiving and take-off to reach an altitude of 4.000 meters. When in position and tightly fasten on to your instructor, jump from the aircraft to experience a free fall for about 50 seconds. When you reach 1.500 meters above the ground, your instructor will open the parachute, and your speed will be decreased just in time for you to enjoy a comfortable 5 minutes canopy flight to the landing zone.
Bring with you
Please bring outdoor or sportswear according to the season
Who can come/Other requirements
◾ There is a maximum weight requirement of of100 kgs (If you weigh more, you will be able to jump depending on various conditions)
◾ There is a minimum height requirement of 1,25 meters
◾ You must not suffer from vertigo
◾ The day you have booked your jump, you must not consume alcohol or any drugs at any moment before the jump
◾ Activity not recommended for persons with heart or bone problems, excessive overweight, or pregnant women
Cutoff time before activity
Prepare for the experience - Things to know before you go
Safety in modern skydiving is extreme. The equipment used is composed of two parachutes: the main canopy and the reserve packed exclusively by riggers certified by the manufacturers of the equipment. In addition, a barometric system integrated into the equipment will open automatically the parachute at a pre-set altitude if necessary.

Other listings from Ole Outdoor